Introducing GadgetzNGizmoz newest product the USB Dual Phone Car Charger in an awesome 2 pack.  Basically you can buy two of these little guys for less than staples charges for one charger.
These are truly an awesome design, sleek and stylish and not nearly as clunky as most USB car chargers.
This comes in a bubble pack of two, each having dual ports.  Simply unbox it, read the instruction and then "Plug and Go"!
You can use this to charge or power two devices in the car at once.  I use mine all the time for my Samsung Galaxy and Iphone.  My wife loves to hook up her Apple Ipad which she takes with her everywhere so she can read or watch videos in the car.  And, with the two per pack feature we have one for each vehicle.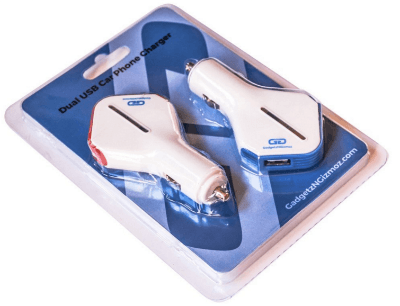 This product is sold on amazon.com under the brand name of GadgetzNGizmoz.   When yours arrives just unpack the bubble pack and you can keep the card which has some useful info on the back.
I love the slim design because I can carry it in my pants or coat pocket.
Another neat feature is the awesome blue LED light that shines when the device is plugged in.  This helps me remember to unplug so I don't run down my car battery.
This product is easy to get on Amazon.com.